Jack the Gripper
Jack the Gripper
Frank Ford
Jack the Gripper
G6655443350
Over the years, about a zillion people have come into Gryphon with an electric guitar with a loose 1/4" output jack .
After some experimentation and making some prototypes, I came up with a tool that works very well to hold the jack while you tighten the nut from the outside. It has a knurled eccentric cam that grips the inside of the 1/4" jack firmly without damage.
"Jack the Gripper" is a solid tool with a stainless steel shaft and maple handle and it comes with a little 3/8 socket adapter for tightening recessed fender-style jacks.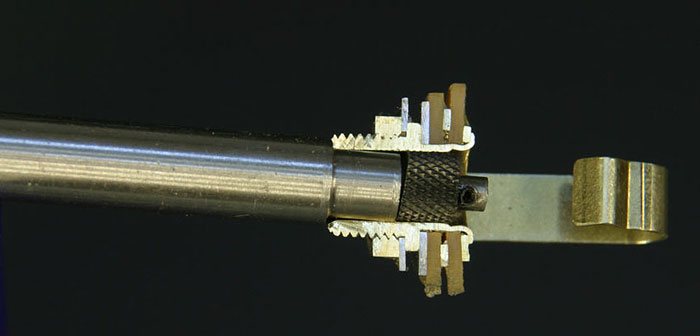 UPDATE, Feb 8, 2017:
I've just finished sorting through a batch of these tools, and have identified a few that have cosmetic flaws - mostly scars on the round shank from when a package of raw materials was damaged in shipment. A few have minor rust spots on the socket adapter, and some have other very small issues with the handles.
None of the cosmetic issues interfere with utility!
Made entirely in the U.S.A. by me, right here in Palo Alto.
Cheers,
Frank Ford